Faced with increased responsibilities but restricted budgets, the agencies that protect our cities, borders, ports, and infrastructure can still expand their intelligence networks by investing in efficient new communication technology.
DragonWave-X has extensive experience building advanced packet microwave networks for critical communications in all areas of public safety including first responders (police, fire and medical), video surveillance, sensor networks, ports, utilities, and border security. 
DragonWave-X systems, available in all-outdoor, split-mount, or all-indoor configurations, support any combination of packet Ethernet and TDM traffic, while offering multi-Gigabit scalability.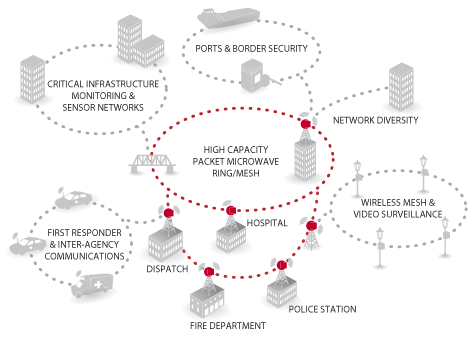 Solution Highlights
Licensed and license-exempt point-to-point wireless from 2.3 to 80 GHz
Pure packet and software-configurable hybrid solutions for simple network evolution
Rapid deployment of temporary links for emergency response
Simple upgrade paths to all-IP P25 systems and 256-bit AES encryption
Intelligent ring and mesh architecture for carrier-grade availability
Pay-as-you-grow scalability