Government agencies at all levels are faced with new demands driven by a multitude of next-generation applications and services.  Video surveillance and traffic cameras, real-time infrastructure monitoring, digital records, first responder communications and broadband connectivity to schools and government offices all have the potential to enhance the lives of citizens and improve the efficiency of governments.
To make these applications a reality and to stay abreast of future demands, government organizations must put in place a scalable broadband infrastructure that is optimized for packet-based voice, video and data applications, while supporting a simple transition from legacy communications networks.
Next generation point-to-point wireless systems can deliver multi-gigabit capacity without the long delays and high deployment costs of fiber-based solutions.  DragonWave-X's packet microwave solutions deliver the capacity, carrier-grade reliability and scalability needed for current and future applications at a fraction of the cost of wired alternatives.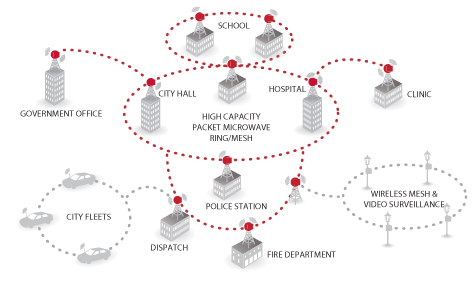 Solution Highlights
Licensed and license-exempt point-to-point wireless from 2.3 GHz to 80 GHz
Pay-as-you-grow scalability up to a market leading 4 Gbps
Pure packet or software-configurable hybrid system for mixed traffic
256 bit AES encryption; FIPS 140-2 compliance
All outdoor deployment options
Intelligent ring/mesh architecture for carrier-grade availability
Simple operations and advanced remote management
Lowest Total Cost of Ownership